Logalizer software is a basic tool to analyze HTTP server log files.

It allows you to load a text file (log file) and perform many important actions, such as collecting referrer statistics, sorting the documents requested, creating html reports, launching selected links etc. Easy to use.


For the webmasters it is very interesting to know what pages are most popular on the site, where the visitors came from and how much downloads they are doing.

All these tasks Logalizer can simplify for you.

The installation package includes the sample log file to evaluate Logalizer features on 'real' data author got from his own site.


Do you need some software to aid web site animation & graphics ? Stop looking further. Just get AVIedit.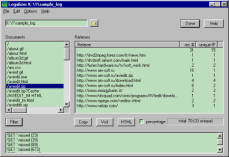 Both Logalizer and Logalizer Pro are copyrighted by AM Software and Alexander Milukov. They can be freely distributed provided all package files are unmodified. See the help file for more information.


Logalizer has been awarded


Logalizer PRO software has been awarded
Free downloads here
archive name
size
build date
status
Logalizer Pro
lpsetup.exe
252 kb
v1.3 Sep 20 2001
shareware
Logalizer
logsetup.exe
183 kb
v1.4 Mar 17 2001
(now frozen)
freeware, consider it as "lite"
See the difference between lite and Pro versions
Feature set
Log file format
- combined log
- common NCSA
- W3C extended
- IIS log file (CSV)

yes
--
--
--

yes
yes
yes
yes
referer report
yes
yes
user-agent report
--
yes
log filter by IP
--
yes
log filter by referer
yes
yes
referers breakdown by category
--
yes
average hits per month graph
--
yes
average hits per day graph
--
yes
hourly average hits graph
--
yes
filtered log export
--
yes
technical support by e-mail
--
yes
Logalizer Pro version history:
2001-09-20
added configurable html report templates
about 50% less virtual memory used to track down unique IP's
much more exact user agent reporting engine added
referer logs can be appended now (text only)
2001-05-31
added unescape
added find/replace in docs
exit on Enter - fixed
latest 4 logs from MRU didn't loaded via menu - fixed
document hits report added
Logalizer version history:
1.4 added log filter option and site referrer reports
freeware Logalizer development is now frozen
1.3 added variable-length lists and multi-selection of documents
fixed the mistake that result in Logalizer crash under Win2000
1.2 added percentage view, GIF graphic bars in html report; great extension of all lists (documents, referrers etc.) was done
1.1 added document filtering by file type, added "total" field
1.0 initial release